Support for Black-owned businesses exploded last summer amid the mass Black Lives Matter protests, which seemingly turned entire industries upside down.
The demand for more visibility for these businesses has also seen an uptick from consumers on the e-commerce world. According to Google, over the last 12 months search interest for "black owned businesses" has skyrocketed 600% based on Google Trends data.
To support this influx of consumers looking to buy Black, Google Shopping has extended its new feature specifically designed to help shoppers easily identify and buy from Black-owned businesses via Google.
Google Shopping refers to the newly-updated feature as the "Black-owned attribute" which Black business owners can use by visiting the Google Merchant Help Center. The feature will become available to all Google shoppers and applicable U.S. Google Merchants in the coming months.
According to a blog announcement, Google added this new update to accompany the Black-owned business attribute it initially launched across Google Search and Maps last summer.
In collaboration with Baltimore-based mixed media artist Amani Lewis, Google and Lewis also created a shoppable piece of art to better showcase products made by Black‑owned businesses and celebrate Black creativity and entrepreneurship.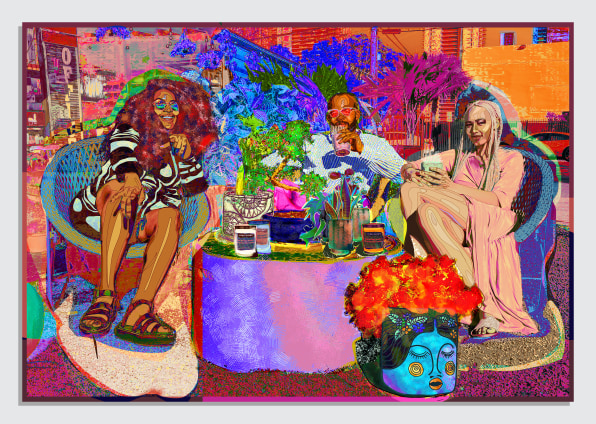 In an interview with Fast Company, Stephanie Horton — director of marketing for commerce at Google — explained the company's reasoning for opting for a shoppable painting over a traditional list of Black-owned businesses.
"We wanted to creatively bring these merchants to life and have something that's more interactive for users to interface with to shop these brands," she said.
The artwork is not only designed as part of an effort to bring more visibility to the branded buy Black tag, it also elevates the shopping experience for consumers to give them a more visually-appealing search tool to utilize — a method most users prefer nowadays considering Instagram's latest roll out of shopping features for these small businesses.
While the artwork will only remain on Google's website for the duration of Black History Month, Horton shared that the overarching goal for the project is to be a launching pad to bring visibility to other UI features that also highlight Black-owned businesses.
"We don't want to just do things for Black History Month," Horton told Fast Company. "This is a good opportunity to kick things off, but our goal is to have people directed to this and utilize the tab and the feature, but also look to Google to shop Black-owned businesses and Black merchants in perpetuity."
Additionally, Google is also rolling out a dedicated social media campaign featuring a plethora of Black artists including Jade Purple Brown, Reyna Noriega, Pink Lomein, Arrington Porter, Brianna Pippens, and Joshua Kissi who will all have a chance to share artwork on their feed that supports their favorite Black-owned business.
For more information on Google Shopping's new feature, click here.