Sneaker culture has become a widespread phenomenon in the digital age that was brought to life via the internet. Sneakerheads have existed long before digital media became popularized, but platforms such as Instagram, Tumblr, and others gave them a place to thrive and connect.
Though sneaker culture continues to grow and expand through different avenues, one thing remains unchanged — women, especially Black women, are still fighting their way into the "boys club."
"I've noticed that Black women, rather than waiting for major corporations to co-sign them, are actually creating their own spaces, platforms and events," shared Robyn Mowatt — former sneaker columnist/ associate editor at HYPEBAE and current OkayPlayer staff writer.
"This means that they're taking control of their narratives and also making space for the next generation of young women to have ownership of streetwear/sneaker culture on their own terms," she added.
No longer needing approval from the industry's gatekeepers, Black women are now demanding respect in the sneaker community.
In an effort to lead the charge for Black women in sneaker culture, these 10 influencers are making major strides to create more inclusion by way of digital avenues.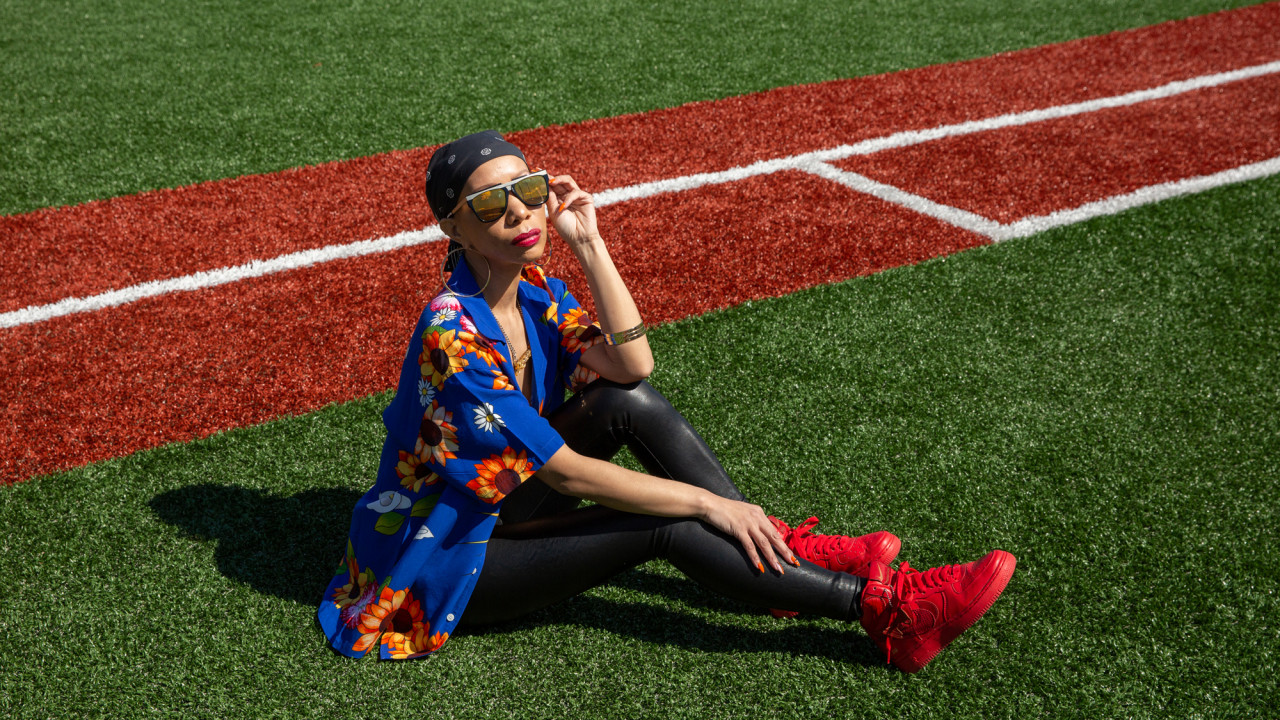 Creative strategist and sneaker designer Jazerai Allen-Lord has long since been regarded as an expert with deep roots in the sneaker and streetwear scene. According to Business Insider, she got her first official introduction to the sneaker community as a journalist and social media manager at Complex's KicksOnFire, where she then paved her way through the fashion industry as a designer.
From there, Allen-Lord went on to launch her own streetwear line, a collaborative sneaker line with Reebok, and even a conceptual adidas boutique store for Darryl McDaniels of Run DMC. She also co-founded a strategic agency this year to help some of the biggest brands in the industry, including Reebok and New Balance.
For over a decade, Allen-Lord has been a voice for women in the sneaker community and continues to blaze a trail that's inclusive of those living in a "man's world." She currently contributes a sneaker column to REVOLT TV called "Kickin' Facts."
Channing Beumer — often referred to as Chan-Lo — is a self-proclaimed sneakerhead who has embraced the culture enough to start her own platform called CNK Daily, which is designed for and by ladies who share a passion for what they call "sneakHER culture," xoNecole reports. Her platform has been able to inspire, educate, and comfort women in the sneaker community all while inspiring them to achieve their business goals.
For the past four years, CNK Daily — a Dallas-based blog — has championed women in sneaker culture and recruited contributors from cultural hubs all over the country such as New York, Los Angeles, Chicago, Charlotte, and Houston.
https://www.instagram.com/p/CD7e3XMJ53C/?utm_source=ig_web_copy_link
Children's fashion designer — Janáe Roubleau — first got into sneakers as a kid in elementary school sporting Jordans religiously. From there, her obsession grew to a full-blown career where she was able to make a name for herself and women who shared her same passion.
In 2017, Roubleau was asked to join Nike's Force is Female campaign that recognized fearless women in L.A. who embodied that mentality. She's used her expertise as a stylist to pave the way for women like her in the industry and has worked with some of the most respected fashion brands, including Elle Magazine and Nike.
Aleali May is credited for being one of the most accomplished woman sneakerheads in the industry after making history as the first woman to design a unisex sneaker for the Jordan brand, according to Business Insider.  The stylist, fashion blogger, and model with a nonconformist style has changed the sneakerhead game for women as the most famous woman in her niche field. May has worked with celebrity clients such as Kendrick Lamar, Wiz Khalifa, Lil Yachty, and more.
She also runs a self-titled blog where she shares her knowledge on fashion, lifestyle, music and art as well as some of her inspirations, experiences, and personal styling tips for her readers to follow. Now she looks forward to making more waves in the sneaker industry all while highlighting women and creating more inclusion within the community.
Lifelong sneakerhead and designer Brittney Perry took a chance on herself back in 2015 and started her own shoe brand called PerryCo. Shoes, with a goal in mind to create a genderless sneaker that could appeal to all styles and identities. As a kid who was into sneakers, she noticed the lack of available styles for women in places like Finishline, so she set out to create more equality for women in sneaker culture.
Many new designers don't jump straight to footwear, but Perry broke barriers to develop a line of sneakers made for everyone, including women who dare to challenge the status quo in this space. The Chicago-based business owner aims to collaborate with more local brands and designers to boost opportunities in the fashion market within the U.S.
LaToya Kamara Manley — North American merchandising director of Jordan Women's brand at Nike — is recognized for releasing more Jordan footwear products for women across the board while also highlighting the impact of female athletes, designers, and fashion icons, Business Insider shares.
Combining her passion for creativity and product development, Manley has been able to lead the charge for more inclusion of women in the sneaker community. The longtime product creation expert hopes her life's work inspires more women to embrace sneaker culture and bring diverse voices to the industry to advocate on behalf of women.
"It's important for women to play a role in the sneaker industry today because women have built equity in the sneaker industry through our loyalty, our knowledge, our participation, and our style," she told Business
Insider. "It's our responsibility to ensure that our voices are heard and that we're making an impact in the future of the industry."
Aida Kiraya — founder of sneaker customization brand Afro Kickz — created a company whose main aim was to design sneakers inspired by traditional African imagery and modern Black culture. Since starting her brand in 2018, Kiraya has had the opportunity to help Arsenal football players customize sneakers for their fans and has even worked with major brands like adidas.
Creating Afro Kickz has allowed her to win the LadBible's "Custom" competition series, attend speaking engagements at U.K. schools, run her own custom sneaker workshops, and create sneakers for public figures like U.K. comedian/actor Michael Dapaah, the former Lord Mayor of Sheffield, Magid Magid, and musician/YouTube star Dainá, according to the Afro Kickz website.
Kiraya's ultimate goal for Afro Kickz is to not only educate and inspire the masses, but also create art for those who are underrepresented in sneaker culture, especially Black women.
Sneaker enthusiast, social media personality, and brand consultant, Shan runs her very own online blog to champion women in the U.K. sneaker space. Recognized as a trailblazer for women, Shan has had the chance to work with a variety of global brands including PUMA, JD and ASOS for influencer marketing and digital media presenting. These opportunities have also allowed her to appear on expert sneaker panel discussions and participate in several brand events.
The social media influencer has amassed a strong following online and also launched #BLVK — an e-magazine that provides a space for representation of Black culture across history, arts, music, and fashion.
Kia Marie — a Brooklyn native and well-known YouTuber — is a fashion blogger and digital content creator with a passion for sneakers. Her style is inspired by 90's hip hop and streetwear culture, and her goal is to inspire women to "live life unapologetically by finding comfort in their uniqueness," her blog states. She's had the opportunity to partner with big-name brands such as Dior, Calvin Klein, Finishline, and Puma to name a few.
By building a community online, Marie has been able to find a balance between her love for style and culture. She has a mission to elevate & empower the sneaker culture through style, beauty, & creativity.
Made for the W — an Atlanta-based Black women-owned and operated media company — offers a unique platform for women's sneakers and sports culture. Close friends — Bria Janelle and Melani Carter — started this platform to merge sneaker culture and women's basketball. They then brought on sports entertainment lawyer, Simran Kaleka, to provide a wealth of industry experience and legal expertise to bring this platform to life.
Since February 2018, the three women have been able to create a thriving platform to generate opportunities for writers unable to secure jobs elsewhere in the sports industry, while also highlighting the influence of women athletes. As of 2020, the platform now employs 25 of the top photographers, writers, and sneaker reporters in the industry.
The founders of this platform look forward to partnering with other like-minded companies in the future to create more visibility for women sneakerheads and athletes in the sports industry.
https://www.instagram.com/p/CCyeMjmg3SQ/?utm_source=ig_web_copy_link
Editorial Note: This article has been updated since being published.