Aisha Bowe is out of this world…literally.
In a post shared on LinkedIn, the STEMBoard founder and CEO revealed that she is anticipating becoming the sixth Black woman and the first to fly on Blue Origin's New Shepard to head to space.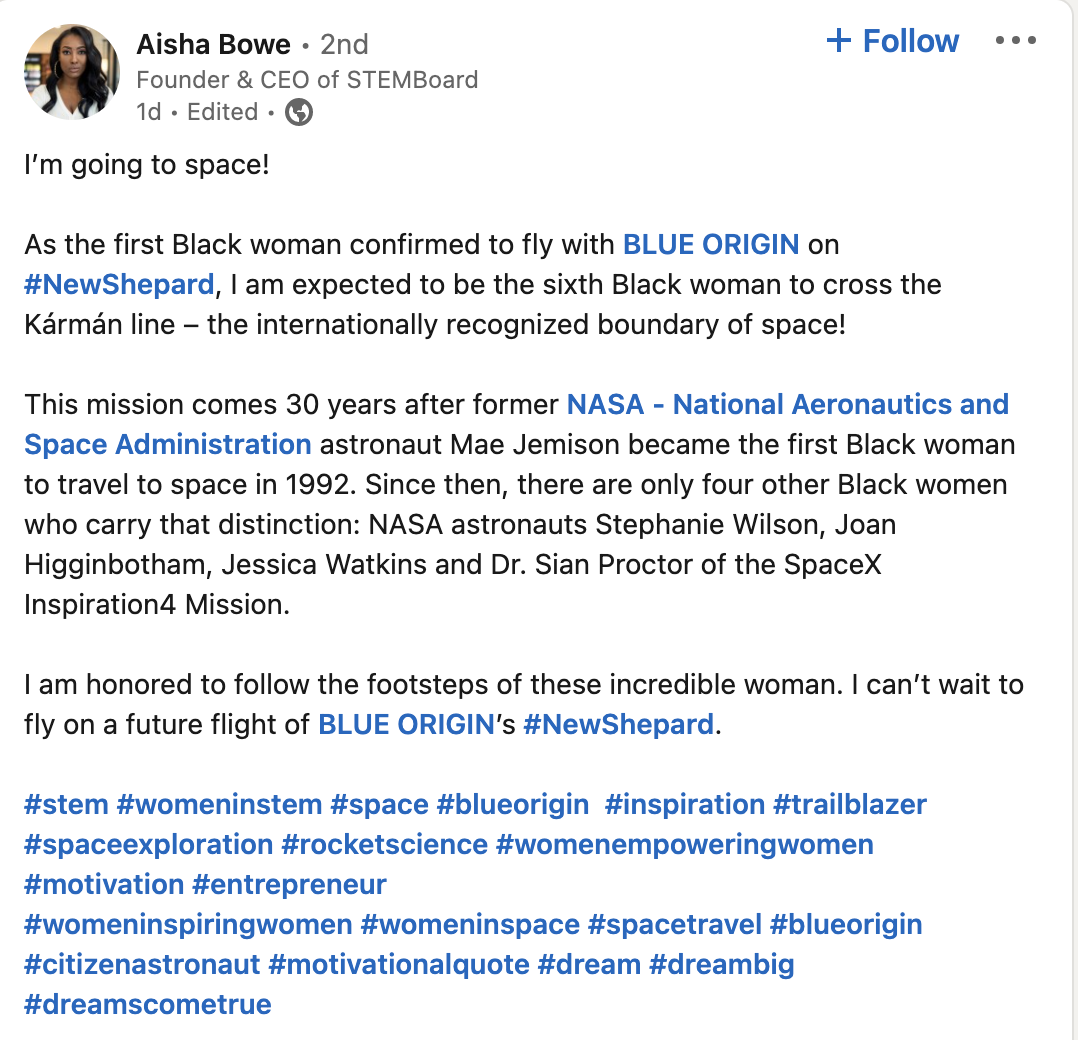 Making History
"As the first Black woman confirmed to fly with BLUE ORIGIN on #NewShepard," she wrote. "I am expected to be the sixth Black woman to cross the Kármán line – the internationally recognized boundary of space!"
And following in footsteps: She follows in the footsteps of trailblazers like Mae Jemison, who became the first Black woman to travel to space in 1992.
"Since then, there are only four other Black women who carry that distinction: NASA astronauts Stephanie Wilson, Joan Higginbotham, Jessica Watkins and Dr. Sian Proctor of the SpaceX Inspiration4 Mission," Bowe continued in her post.
In the LinkedIn post, she rightfully shared her excitement as she prepares to add her name to the legendary list of women.
"I am honored to follow the footsteps of these incredible woman. I can't wait to fly on a future flight of BLUE ORIGIN's #NewShepard," she wrote.
About Aisha Bowe
Bowe is a former NASA rocket scientist and the creator of STEMBoard. The engineering solutions company has been recognized by Inc. 5000 as one of the fastest-growing companies in America.
What's more, she has raised nearly $2 million in venture capital funding for LINGO. As AfroTech previously reported, LINGO is a self-paced coding kit designed to help students learn technical concepts at home.
According to Bowe's website, her journey first began in a pre-algebra class in community college. Since then, she has gone on to earn a bachelor's degree in Aerospace and a master's in space systems engineering from the University of Michigan. Currently, she serves on her alma mater's Aerospace Department Industry Advisory Board.