Marsai Martin is one of the brightest stars in Hollywood and the definition of young Black excellence.
Born in 2004, she's quickly made a name for herself in Hollywood and presents herself as a role model for young Black girls around the world.
The young actress and producer has accomplished so much since her breakout role in "Black-ish," describing the time right now as "surreal," according to Good Morning America.
Let's get to know her more with the fun facts below.
Editorial note: This article was initially published in 2019 and updated to reflect the most recent information.
Her real name isn't Marsai Martin.
"Marsai" is actually her middle name. Her given name is Caila Marsai Martin.
Before starring in ABC's "Black-ish," the young actress got her first start in the entertainment industry by nabbing a national commercial with Meineke.
Teen Vogue reports Martin made a huge splash last year as Hollywood's first 14-year-old to both produce and star in her first major movie. Martin's big-budget comedy film made headlines everywhere and made her a force to be reckoned with in Hollywood.
"I hope that [in 21 years] we won't even have to be a first anymore: first black woman to do this, or first black male, or the first woman to do that," she told Teen Vogue. "I hope that we always have diversity, that we have equality and representation every step of the way."
Not only has Martin made history as the youngest to produce a studio film and sign a first-look production deal at Universal Pictures, but her movie ventures also inspired her to launch her own production company called Genius Productions, according to Because Of Them We Can.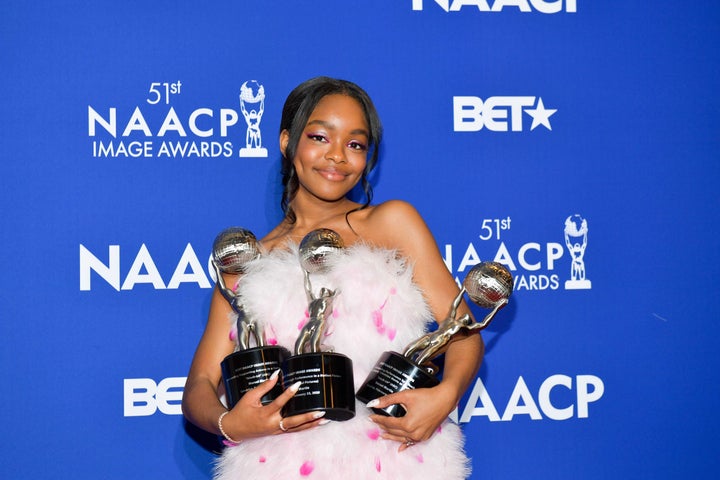 Martin won big this year at the 2020 NAACP Image Awards. HuffPost reports that she earned four awards for Outstanding Supporting Actress in a Motion Picture and Outstanding Breakthrough Performance in a Motion Picture for her role in the 2019 film "Little," and Outstanding Supporting Actress in a Comedy Series and Outstanding Performance by a Youth for ABC's "Black-ish."
She also won at the 2019 BET Awards snagging the Young Stars Award and was previously nominated for SAG Awards in 2017 and 2018.
According to Forbes, the successful teen actress made her way onto the 2020 Forbes 30 Under 30 List for her all her major accomplishments including becoming the youngest executive producer in Hollywood, a breakout star on ABC's "Black-ish," and an award-winning actress.
The "Black-ish" star partnered with nonprofit Color of Change along with her production company to host a writer's Brunch earlier this year and promote writers of color in the entertainment industry.
During the event, she spotlighted the importance of having more perspectives from writers of color in film, television, and digital content, according to The Hollywood Reporter.
Martin is working alongside vision company Essilor of America to raise awareness for parents about single vision patients, Women In Optometry. Their partnership highlights the importance of total vision care for the changing needs of kids' eye health.
Martin — along with her "Black-ish" co-stars Tracee Ellis Ross and Yara Shahidi — is pushing the conversation around natural hair with their ever-changing styles they show off on their sitcom. The show even dedicated an episode to discussing the Black hair experience for women reports Essence.
Martin's personable character on "Black-ish" has always made her meme-worthy, but her hilarious reactions have made her the meme queen.
One of her best viral meme moments so far came from her reaction to unexpectedly winning at the 2019 BET Awards.
Martin set the bar high for everyone in her peer group making historical milestones at such a young age, but she's just getting started.
In a Q&A session with BET, Martin stated she wants to be the "youngest billionaire or trillionaire" as her next goal to conquer.
She has a "No Black Pain" rule when choosing roles & projects.
"I have a couple of rules when you come into my office. When you come into my office, don't give me this — I don't do no Black pain. If it's Black pain, I don't go for it because there's so many films and projects about that, so that's not who I am," she said in 2021, according to our sister site, 21Ninety.