Tech is proving to be savvier for consumers these days, especially as it relates to any encounters with law enforcement.
In light of the ongoing protests and incidents with police officers, CNN reported that a popular iPhone shortcut will now auto-record any interactions you may have with the police.
Apparently iphones have a police shortcut link and it does a bunch of things when you tell Siri you're pulled over…?

This is REALLY important if it's legit, all my iphone ppl need to watch this and share. pic.twitter.com/Dp7E3Uj2So

— DesiBae aka Big Horchata (@sarcasticstyle) June 10, 2020
The shortcut, created by Reddit user Robert Peterson, will send a message with your location to a friend or family member and automatically start recording a video with the simple command, "Hey Siri, I'm getting pulled over," CNET reports.
In 2018, Peterson told Business Insider the purpose of the app was to mimic the same functions of body cams stating, "It seemed to me that if you're getting pulled over it couldn't hurt to have a recording of the incident. The police these days in many places have body cams, so this could be the civilian equivalent."
The shortcut received a lot of attention when it first launched two years ago, but recent events have popularized it on social media and added fuel to the fire on police reform, according to CNN.
"I just wanted a way for anyone to have proof of their version of events in the unlikely scenario that something unexpected happens during a police interaction," Peterson told CNN affiliate KCTV in 2019. "And if 1 in 10,000 people find my shortcut useful at all I'd be glad."
CNN outlined a few short steps to download the shortcut below:
Step 1: To set it up, first download the "Shortcuts" app on your iPhone.
Step 2: Then you have to run another shortcut in the Shortcuts app. If you tap "Gallery" on the bottom right corner, you will see other shortcuts you can run.
Step 3: Next, go to settings, and scroll down to "Shortcuts." Tap it and then toggle the "Allow Untrusted Shortcuts" to on.
Step 4: Open this link in Safari to download the "I'm getting pulled over" shortcut. Tap "Get Shortcut."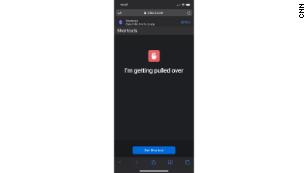 Step 5: Once it opens, scroll down and tap "Add Untrusted Shortcut."
Step 6: Choose a contact(s) for who you would like to send your location and a copy of the video recording to. Then tap done.
For more information on the shortcut, click here.