Many entrepreneurs start a business with the goal of building the operation and growing the company. As you see continued success, you may wonder if it's time to expand your business.
Although there's no telltale moment, there are several signs to watch for that would indicate it may be time to expand.
7 signs it's time to expand your business
As you begin to hit certain business milestones, you may notice the company could benefit from more resources.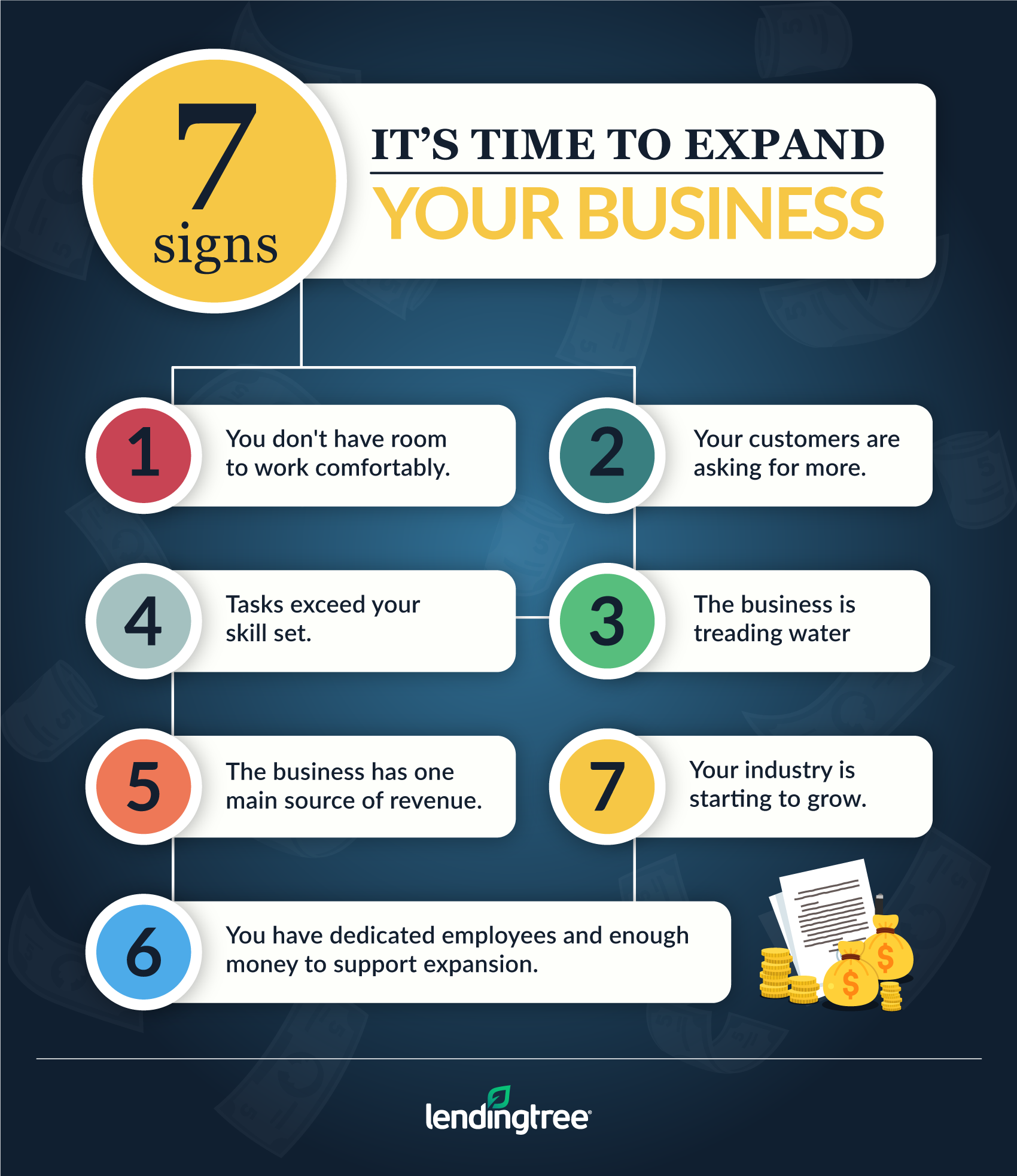 1. You're running out of space
You and your employees should have enough room to work comfortably. If everyone is too close, it could be time to think about a real estate expansion. You could renovate your existing space, build a second location or relocate. Whether you lease or purchase would depend on your financial situation and future business demands. The size of the space would depend on anticipated growth. You want a space that can fit your expanding operation, but not so large that you waste money.
2. Customers are looking for new products
When customers are requesting additional products or services, you don't want to turn them away, potentially sending them to your competitors. If customers or clients are asking for more from your business, that's a sign you could have the existing clientele and word-of-mouth marketing to support a new product line or second location. However, be sure that the business can sustain an expansion before making changes solely on customer demands. If an increase in production results in a decline in quality, you risk losing customers — and sales.
For fast-growing companies, demand can sometimes exceed the business' bandwidth. If you have to turn down orders or put in crazy hours to complete work, it could be time to expand your business. You could hire more employees or open a second location. But make sure the increase in business isn't seasonal or temporary — you don't want to be overstaffed if things calm down.
3. You're growing stagnant
If your business is neither progressing nor declining, it may be time to start making changes. Expanding your business could keep it from becoming sluggish. Complacency could be detrimental to long-term survival, so make sure you continue to set new goals to avoid losing steam and slipping backward.
4. The business requires skills you don't have
You might have been able to complete every task yourself when you started the business. But you could now find that business responsibilities surpass your skill set. This would present an opportunity to hire people to fill those gaps. For instance, you may need someone with accounting expertise to handle your finances as the company grows.
5. The business needs diversification
If your company earns a large percentage of revenue from a single product or service, you should consider expanding your offering. You don't want to have all your eggs in one basket — it may be time to diversify your product line and your customer base. Some diversification strategies include adding new products that are similar to what you already produce or adding unrelated items to your product line. For instance, if your business manufactures notebooks, you could begin selling pens or go in a different direction and start producing mugs or other housewares.
6. You have enough money and a dedicated staff
To expand a business, you need positive cash flow to fund expansion plans and a dedicated staff of employees who will stay to grow the company. Hiring new employees comes with a cost — about $4,000 per new hire, according to Bersin by Deloitte. You need to spend money to recruit and train workers, but you may see reduced productivity as new employees learn their roles. Once you have the right team in place and enough revenue to cover the costs of growing, which includes hiring expenses, you would be on track to expand your business.
7. Your industry is growing
Some industries are more poised for growth than others. If your industry is expanding, you could have a better shot at accessing an untapped customer base. You may not have as much competition as businesses in saturated industries. Some of the top industries expected to grow in 2019 include solar power, internet publishing and broadcasting and e-commerce and online auctions.
How to begin expanding your business
When expanding your business, you could either grow or scale the company. Scaling a business requires you to increase revenue without pushing your expenses too high. But you would see your revenue and expenses rise simultaneously while growing the business.
The strategy you choose would depend on the resources at your disposal. Once you move forward with your expansion, it's time to put a plan in place. All new products and locations must comply with related rules and regulations. Consider following these steps to begin.
Check legal requirements
If you're expanding to a new city, county or state, you may have different or additional legal rules to follow. You would need to make sure you register your business and acquire the necessary permits and licenses. The process would be similar to the steps you took when first starting the business.
When moving to a new state, you could be required to file for foreign qualification. This would notify the state that your business is active in the area. You may need to file a Certificate of Authority or a Certificate of Good Standing with your state's secretary of state to inform the new government of your business details.
Update your marketing plan
Your marketing plan will need to include changes resulting from the expansion, such as a new location, new target customers, a different sales plan and your competitive advantage. Be sure to add up any additional marketing and sales costs. Your new marketing plan should be just as thorough as your plan when you opened the business.
Finance the expansion
A slowdown in cash flow could negatively affect your goals while growing the company. Business expansion loans can provide capital to cover costs like hiring employees, purchasing equipment and increasing production. Term loans, equipment financing, invoice financing, invoice factoring and microloans from traditional and alternative business lenders could help you cover gaps in cash flow.
The SBA also offers financing for expanding businesses. SBA 7(a) loans, microloans and CDC/504 loans could be used to cover various costs of growth. Approval would be based on the trajectory and maturity of your business, as well as how much debt you have.
The bottom line
Deciding to expand your business is a big step that would enable you to push your company to new heights. But it's not a choice to take lightly: growing a business requires considerable resources, including capital, research and a solid team of supporters. Taking the leap before the business is ready could turn out to be harmful.
You don't have to go through the expansion process on your own. Consider reaching out to a business consultant or a mentor with SCORE, the SBA's business education and mentorship program. With some guidance, you could make sure you follow the right path to take your business to the next level.
This article originally appeared in Lending Tree