When Moët Hennessy Louis Vuitton, Louis Vuitton, and Off-White announced that Virgil Abloh passed away on Nov. 28, 2021, the world was in shock. Few (if any) knew that the acclaimed fashion designer was suffering from a rare form of cancer known as cardiac angiosarcoma.
But according to CNN, Kanye West — his longtime friend and collaborator — honored his friend in his weekly Sunday Service when news of Abloh's death hit the wires.
Kanye West dedicates his latest Sunday Service to the memory of Virgil Abloh 🕊 pic.twitter.com/WS91D3JQ01

— digitalfeedmedia (@digitalfeedtv) November 29, 2021
"West's ensemble choir sang a moving rendition of Adele's "Easy on Me," the single off her latest album, "30," in his honor," reported the outlet. "The message, "IN LOVING MEMORY OF VIRGIL ABLOH, THE CREATIVE DIRECTOR OF DONDA," appeared on the screen during a live stream of the service."
In his lifetime, he was a boundary-breaking fashion designer who also wasn't afraid to court controversy. His celebrity friends and clientele helped him achieve unprecedented heights in the notoriously insular world of fashion. And, most importantly, Virgil Abloh left a legacy that will last a lifetime.
"Virgil was driven by his dedication to his craft and to his mission to open doors for others and create pathways for greater equality in art and design," wrote his wife in an Instagram tribute to his life. "He often said, 'Everything I do is for the 17-year-old version of myself,' believing deeply in the power of art to inspire future generations."
Let's take a look back at the remarkable life of Virgil Abloh, who was a lot more than just an American designer.
Early Life and Education
Born in 1980 in Rockford, IL — a suburb of Chicago — Virgil Abloh was the son of Ghanaian immigrants, where he learned to sew from his mother, who was a seamstress. In 2002, he graduated from the University of Wisconsin with a degree in civil engineering and followed it up with a master's degree in architecture from the Illinois Institute of Technology in 2006. Though he initially worked as a furniture designer, he quickly developed an interest in fashion.
Career Beginnings & Kanye West
In 2009, Virgil Abloh was interning at Fendi alongside a certain rapper by the name of Kanye West. The pair hit it off almost immediately, and according to Vogue, they teamed up to launch a boutique named RSVP in Chicago. From there, West asked Abloh to design the cover of his collaborative album with Jay-Z called "Watch the Throne" in 2011, and the rest, as they say, is history.
Off-White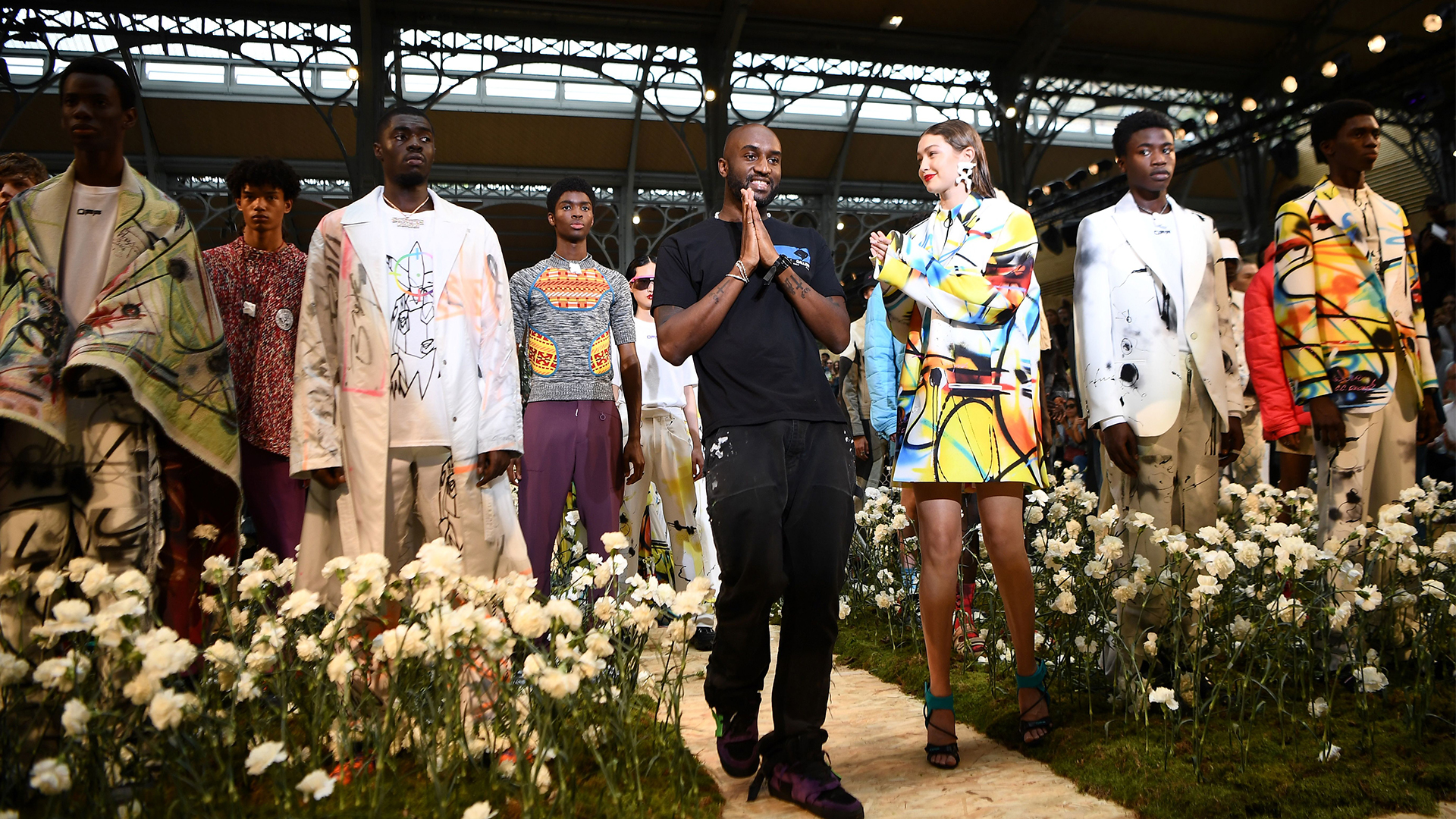 In 2018, Off-White was named the hottest label in the world, dethroning Gucci for the title, according to The New Yorker. And that was under the tutelage of Virgil Abloh, who founded the label in 2013. Although, according to LVMH, the brand was "started in 2012 as an artwork titled 'PYREX VISION.'"
"It's this idea of the readymade. I'm talking Lower East Side, New York. It's like hip-hop. It's sampling. I take James Brown, I chop it up, I make a new song. I'm taking ikea and I'm presenting it in my own way. It's streetwear 10.0—the logic that you can reference an object or reference a brand or reference something. It's Warhol—Marilyn Monroe or Campbell's soup cans," he said to the outlet at the time.
Louis Vuitton
According to CNN, Virgil Abloh secured his place in fashion history in 2018 when he was named as the Men's Artistic Director of Louis Vuitton. He was the first person of African descent to be named to the position in the company's history and was one of the few Black fashion designers named to the helm of a fashion house.
In July 2021, AfroTech reported that LVMH acquired a majority stake in the Off-White fashion label.
"The acquisition deal has the potential to make Abloh the most powerful Black executive at the world's most powerful luxury goods group," we said at the time.
Under Abloh's tutelage at the LVMH fashion house, celebrities like Rihanna, Playboi Carti, Steve Lacy, A$AP Nast, Dev Hynes and Kid Cudi revitalized the look and feel of the iconic fashion brand. They were periodically photographed in his fashions and even walked in his runway shows.
But where he really made his mark was when he created an outfit for Serena Williams for her to wear at the 2018 US Open.
Other Artistic Ventures
In addition to being an acclaimed fashion designer, Virgil Abloh was both an artist and a DJ. He frequently collaborated with Japanese artist Takashi Murakami in his artwork and moonlighted as a DJ. He DJed several fashion afterparties, and even had a brief residency at the Wynn in Las Vegas, NV.
Awards & Accolades
In 2011, Virgil Abloh served as the artistic director for Kanye West and Jay-Z's seminal collaborative album, "Watch the Throne." At that time, he was nominated for a Grammy for Best Album Packaging. Then, in 2015, Abloh's Off-White Brand was nominated for the prestigious LVMH prize, and was notably the only American designer to be nominated for the prize that year. But according to the New York Times, 2017 was really Abloh's year, as he took home both the Urban Luxe Award at the British Fashion Awards, and the International Designer of the Year at the GQ Men of the Year Awards. The next year, he was named one of Time Magazine's most influential people of the year, and was also named to the EBONY Power 100.