Black Hollywood has historically made major contributions to the TV and film industries. However, many Black actors and actresses don't get their proper shine or pay for their work. Here, we are spotlighting some of the highest-paid Black actors and actresses who've reaped the benefits from their fruitful careers.
Halle Berry's acting career is highly regarded in the entertainment industry. She became the first Black woman to win an Academy Award for "Best Actress" and has starred in classic films like "Boomerang," "Monster's Ball," "X-Men" and more. Berry has opened doors for many Black actresses and her efforts continue to set the standard for Black Hollywood.
Queen Latifah has had a very rewarding acting career. Even though she began with music, the Oscar-nominated, Grammy and Emmy award-winning actress ventured off to Hollywood starring in the hit sitcom "Living Single," as well as movies like "Set It Off," "Hairspray," "Chicago," "Last Holiday," and dozens more. Her stunning career even earned her a star on the Hollywood Walk of Fame.
Gabrielle Union has long since been regarded as one of the best actresses in Black Hollywood from her days as a Clover cheerleader in "Bring It On" to leading her own TV series "Being Mary Jane." Her career dates back to the mid-90s when she landed her first onscreen role in "Saved by the Bell: The New Class." Fast forward over two decades later and Union is still highly sought after for acting roles. Throughout her career, she's also adopted titles as an author, philanthropist, and advocate for women.
Kerry Washington — best known for her leading role in ABC's "Scandal" — has worked for years as a successful actress in Hollywood and on Broadway. Her talent and skills have allowed her to snag tons of leading roles and even start her own media production company, Simpson Street. She recently helped direct an episode of HBO's "Insecure" and currently stars in her co-produced series "Little Fires Everywhere" alongside Reese Witherspoon.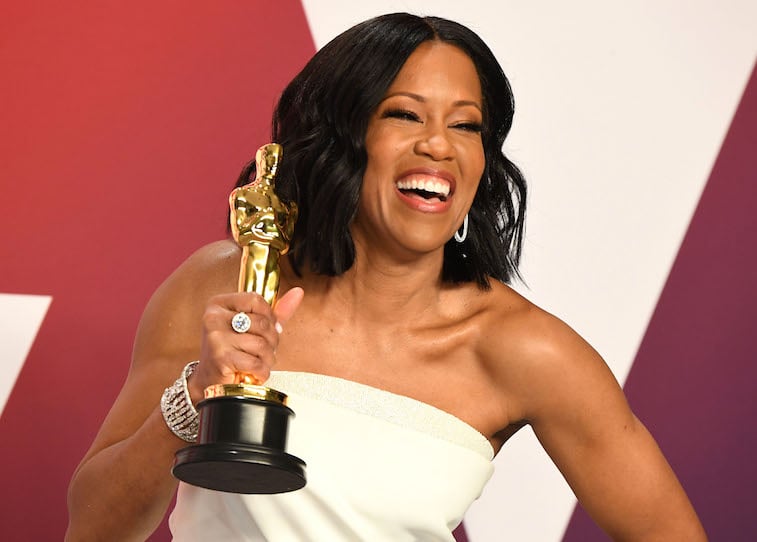 Regina King's days as an actress have long been celebrated for the range of roles she's snagged. From TV sitcoms to cartoons to Oscar-nominated films, King has done it all. The actress and director took Hollywood by storm as a teenager and continues to set the bar high for actresses all around. Most recently, King won "Best Supporting Actress" for the film adaption of "If Beale Street Could Talk" and starred in HBO's hit series "Watchmen."
Actor, writer, producer, and director Tyler Perry has garnered respect as a force in the entertainment industry, all the while starting pop culture trends. As one of the highest-paid actors in Hollywood, Tyler Perry has made major contributions that have helped to launch the careers of hundreds of Black actors and actresses. His biggest accomplishment to date is being the first Black man to open a fully-Black film studio upon 330 acres of land. The grand opening was a star-studded event filled with peers he's worked with in the past and employed.
Will Smith has one of the best acting streaks in Hollywood. Smith has been on a roll, starring in his own sitcom, followed by many major motion pictures that have cemented his place as one of the best actors ever. Aside from his music career, the Philadelphia native remains a highly sought after actor in the game. His most recent films — including "Bad Boys For Life," "Gemini Man," and "Aladdin" — were worldwide phenomenons continuing his great legacy.
Samuel L. Jackson has been active in Hollywood for over 40 years and has positioned himself as the industry's most bankable star. Starring in 100 movies, Jackson's passion for entertainment shines through his long-standing career in the many versatile roles he's acquired. Most famous for his cutthroat attitude and obscene catchphrases on and off the screen, Jackson is considered one of Hollywood most beloved gems.
Denzel Washington has led a distinguished career as a film actor. The award-winning actor and director's reputation in Hollywood has exceeded every decade since his start in entertainment. As a passionate craftsman, Washington is one of Hollywood's most potent actors. He has opened doors for many young, Black actors to walk through and laid the foundation for what it means to make art influential. His success lives through his name alone and his legacy hangs high on the ranks as Hollywood's best.
Martin Lawrence established himself as a leading actor and notable name in Hollywood, bringing films like "Big Momma's House," "A Thin Line Between Love and Hate," "Bad Boys" and more. His television series, "Martin," truly defined the era of great Black sitcoms. His career as an actor and comedian is well-respected in Hollywood and his name lives along the likes of Eddie Murphy, Chris Rock, Bernie Mac and others.