A marketing budget for small businesses can keep spending on track as you promote your business.
"Assuming you have a good marketing strategy and plan in place, it can truly fuel your growth as a business in a way that outbound sales cannot," said Lyndsey Maddox, from Digital Third Coast, an online marketing firm.
Continue reading to learn how to create a marketing budget and strategy for your small business.
How to create a marketing budget
The amount of money you spend on marketing depends on the results you want to achieve, such as growing your revenue by a certain percentage. Before you start pouring funds into a campaign, follow these steps to create an effective strategy as you set a budget.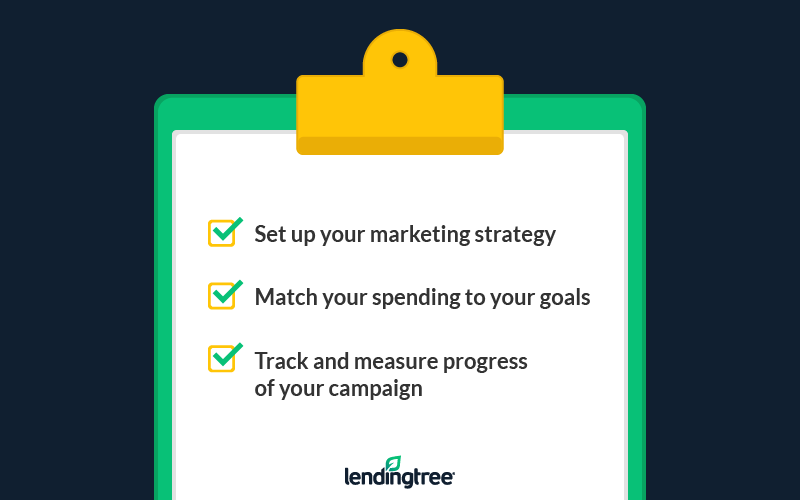 Set up your marketing strategy
To expand your reach, you first need to understand your existing — or prospective — customer base, said Maddox, who is director of business development for the Chicago-based marketing company. Once you have a full picture of your customers' habits, you'd be better prepared to appeal to others in a similar demographic.
Ask yourself a few questions about your target market:
What motivates your ideal customers?
What are their buying behaviors, expectations, values and problems?
Where have you been connecting with people? Can you attract newcomers through those same channels?
Researching your competition is also a key part of establishing a marketing strategy. Gather intel on what your competitors are spending on marketing and advertising to see what you're up against.
Several digital tools are available to help you complete a competitive analysis, including SEMrush, SpyFu and Moz, which help business owners measure their online presence against similar companies. A SEMrush subscription ranges from $99.95 to $399.95 a month, while SpyFu's monthly plans cost $39 to $299.
Investing in such tools could allow you to identify marketing trends within your industry and give you an idea of where you should increase your efforts to keep up.
Match your spending to your goals
When creating a marketing strategy, you should establish realistic revenue goals for each campaign, Maddox said. Then, determine how much of your budget you can devote to individual campaigns.
"If you can map out what the returns can be, it's easier to define what your budget can be to hit that," she said.
Looking at the average marketing budget for small businesses, it's common for business-to-business (B2B) companies to spend about 6% to 7% of their revenue on marketing. Business-to-consumer (B2C) companies typically invest more, between 9% and 12%. A 2018 Gartner study found that nearly one-third of chief marketing officers' budgets is allocated for marketing technology.
Some of the types of small business marketing could include:
Website: Consider making a significant investment in your website. Much of your marketing and advertising will drive people to your website. A negative user experience on your site could deter potential customers.
Paid social media ads: Social media advertising can be beneficial. It allows you to select your audience based on factors such as demographics or job titles.
Creative design: Whether you hire an outside agency or build an internal team, you'll need designers to put together the creative components of your marketing campaigns.
Traditional media: Outside the digital realm, traditional advertising outlets such as TV, newspapers and radio could be a worthwhile investment for certain businesses.
Email marketing: Sending newsletters or other communication to customers through email would keep your business top of mind and encourage them to interact with your brand. For a cost, many email marketing platformscan automate your communication.
Although it may be a good idea to follow spending guidelines, there's not a definitive amount of money you must put toward marketing to be successful. You may be able to implement strategies that are inexpensive but still effective.
Some low-cost tactics include word-of-mouth marketing, organic social media outreach and volunteering or appearing at events in your community to publicly promote your business.
Track and measure progress of your campaign
One of the most important components of any marketing strategy is the measurement plan, Maddox said. You should be tracking the effects of your campaign to make sure the business is growing in the right direction.
Keeping tabs on your campaign may be an extra cost, but it would be worthwhile to pay staff members or an outside firm to track how much the business grows and when that growth happens.
"The best thing you can do is establish what [goals] you want to hit and how you want to measure it," Maddox said.
For example, if you want to gain a certain number of new clients, you should figure out how many leads you must generate to hit that goal, she said. Having a metric for progress would help you determine if the marketing campaign is successful enough to ramp up your efforts, or if you need to make changes.
"If it's not working, be ready to be agile and shift strategies," Maddox said.
Sample marketing budget for small businesses
Your small business marketing budget should include your projected and actual spending on a monthly or yearly basis.
Spending should be broken out by category, such as staff costs and research expenses. You could also highlight the cost for specific products, such as sponsored content and online ads.
Here's an example of a marketing budget for small businesses that tracks weekly spending in various categories to show a quarterly total:
Click here for the marketing budget example
There are several sample templates available online to download and customize. For instance, Smartsheet offers 12 free marketing budget templates, from annual and quarterly budgets to specific social media and public relations budgets. You can download the Excel documents here.
HubSpot also offers a number of marketing budget templates. With eight templates from which to choose, you could track spending on product marketing, content creation, paid advertising, public relations and other marketing practices. Enter your business information hereto download your free templates.
Maximizing your marketing budget
Once you have your marketing budget in place, it would be time to start strategically spending. You may see areas where you could cut corners to save some cash, but taking shortcuts could cost more in the long run.
Any campaign that you can "set and forget" likely won't deliver the results you expect, Maddox said. An effective marketing strategy would require you to test different approaches and monitor results so you can focus on practices that pay off.
As you collect results, be sure to phase out unsuccessful campaigns. Focus on those that bring the best results. However, you may want to maintain a mix of marketing methods and promote your business across all areas where you could reach your target customer. That way, you wouldn't be relying on just one campaign.
Monitoring how your campaigns play out would allow you to make the most of your marketing budget, Maddox said. You would be able to see which aspects of your campaign could use a bigger investment and where you could cut back.
"Make sure you have some budget that's allocated toward reporting on what's happening with those campaigns and what you should be doing next," she said.
This piece previously appeared on LendingTree.